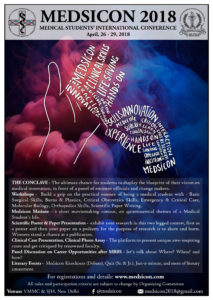 Behold!
MEDSICON is back with a bang!
Prepare for the enormous undergraduate medical students scientific meet of the year.
And it's time for you to block the dates, book your tickets and set up your itinerary!

This April 26th to 29th, Let's get our gloves on, and hands dirty, as we learn to work the magic of medicine in hands-on skills in six different workshops, under India's most celebrated medical fraternity.
Present your innovative ventures applicable in medicine to a panel of influencial change makers, with a face to face discussion in CONCLAVE.
Exhibit your research in Scientific Poster and Paper Presentation – and stand a chance at publication in an indexed journal.
Show passion, argue, interject and win in -MEDSICON Knockouts: The Debate.
Quiz your way to glory as you share and learn, in senior and junior quiz (exclusively for 1st and 2nd professional students)
Indulge in competitive amusement with Just a minute, Medical dumb charades and Medical Pictionary.
So stop thinking, start planning – and don't miss out!
Dates : April 26th to 29th
Venue: VMMC and SJH, New Delhi.
Contact us: medsicon2018@gmail.com
www.medsicon.com