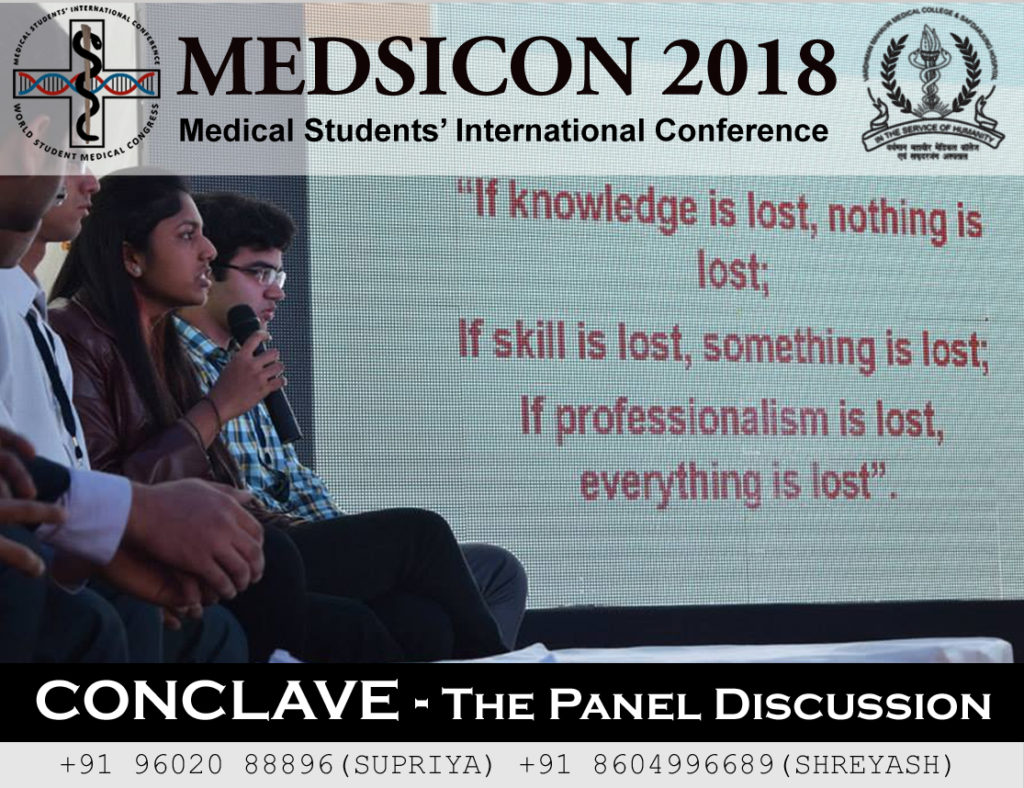 CONCLAVE – THE PANEL DISCUSSION
"Innovation is seeing what everybody sees but doing what nobody has done"

Through CONCLAVE, we attempt to give the stage to inspired inventive projects. A unique platform, for unique ideas.

Our theme – "

Medical Innovation – Indian solutions to Indian problems

"
India, isn't a country, it's a phenomenon; that binds an extra-ordinary diverse people together, who call it home. While each nook and corner of this beautiful country has its own charms, it also has its own woes and troubles. In the field of medicine, India is the perfect
enigma, rewarding but challenging.
We encourage you, the future of Indian healthcare to bring your projects; the mantra being to come up with 'jugaad' for our 'desi' problems.
So, answer our question with your creative but practical project, and discuss with like-minded innovators, in front of a panel of esteemed personalities from institutes like ICMR, AIIMS etc.
What you need to do?
Get your team registered [Team can be

up to 10

members, but no less than 3]

Email us your abstract idea compiled in the form of a PDF [Word Limit – 1000 words – can be extended only to add references] – this should include a brief introduction to your concept and its practical application.

The top entries will be selected for the main event – CONCLAVE.

Event comprises of 3 rounds:
Podium Presentation

 

Display your projects' blueprint in the form of a presentation to the audience and panel, while your team gets the stage to showcase your idea.

Time limit – 3-10 min

Participation: open to entire team to speak




 P

anel Discussion

Then comes the time for critical analysis of your abstract ideas by the esteemed panelists- there will be a face to face comprehensive discussion with your team and your panel; while the audience witness and learn from your exchange.

Time limit: subject to panelists, however discussion beyond reasonable time will be discouraged.

Participation: open to entire team


Audience questions

The final leg of the contest, opens the door for the audience to critique and understand your project. Audience will include faculty, fellow delegates, and not to mention, your competitors- other teams.


o

Time limit: 5 minutes


o

Participation: 3 participants of a team will be allowed.
You will be judged based on:
✓ The originality of the idea
✓ Hypothesis (what is your proposal)
✓ Methodology
✓ Feasibility of the idea
✓ Potential obstacles
✓ Literature review
✓ Original research
✓ Video/Enactment

Follow the link to see a sample of abstract: Sample Abstract
This is from the VAMSCON 2016 – when the topic was Innovations in health care.
Last date for abstract submission is 20th
April 2018, 1500 IST

Abstracts to be submitted in PDF format to –
medsiconacademics@gmail.com

Contact:
Shreyash Agrawal: +91 86049 96689
Ayush Agarwal: +91 98683 91280
Supriya Maheshwari: +91 96020 88896
Khyati Goyal: +91 98187 95571