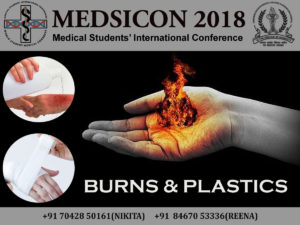 "RISING FROM THE ASHES"- THE BURNS WORKSHOP
OBJECTIVES:-
Treating and accessing burn injuries better
Increase awareness about the occurrence of burns and its prevention strategies(First aid at home)
To apprise about the comprehensive care of burn victims
Hands on training exercises
This workshop is intended to help in providing better insight in treating burn injuries better and also increasing  awareness about their causes and prevention.
It includes Hands on training exercises and Video Lectures along with the interactive lectures and discussions with Safdarjung's Burns faculty.
Faculty
To be conducted by Asia's Best and Largest Burns Department-"The Safdarjung Burns, Plastics and Maxillofacial Surgery Department".
Dr. Karoon Agrawal – Director Professor & Consultant
Dr. R.P.Naryan – Head of Department & Consultant
Dr. Shalabh Kumar – Senior Plastic Surgeon & Associate Professor
Dr. Sujata Sarabahi – Senior Specialist & Associate Professor
Guest Talks
Introduction to burns injuries + causes and prevention + first aid management+ primary and delayed surgical treatment- Dr Karoon Agrawal
Initial assessment of burn patient and management in casualty and what happens if not treated properly- Dr. R.P. Narayan
Management of burn patient as a whole (patient, wound, family, society) and newer technologies – Dr  Shalabh Kumar
Demonstrations and Hands on Sessions
Skin grafting harvesting
Effective Dressing of the burn wound
Newer dressing material
Burns department tour
Street play
How to reduce the incidence
Causes of burns and first aid
Contact us:
Reena Meena: +91 84670 53336
Nikita Gupta: +91 70428 50161
Sanjana: +91 88003 17627
or email us at medsicon2018@gmail.com